I'd like to introduce the concept of Evergreen: defined as something that automatically renews itself or otherwise remains steady and constant without sudden halt or die off. For a rundown of Evergreen Fundamentals, check out our Evergreen post.
The concept of keeping your materials evergreen usually is applied to online content management. But the idea of building an evergreen framework can also be applied to the content you manage in franchising. Embracing evergreen can save you both time and money.
Allow me to explain.
You're the Director of Operations for an emerging vegan burrito franchise and you've got this amazing idea to revolutionize the way your franchisees handle de-greasing the floors. (A few too many BOH slip-and-fall incidents have everyone worried.) Because this is an entirely new process and you're trying to brand everything you do with catchy catchphases (#insta #tofutiful) that match your concept, you've been naming all of your core processes after some of your insanely clever menu items. Just last week you released a new plan to boost sales in your lunch daypart and now there's a new section in your Operations Manual table of contents called, "Kale It at Lunch."
So, this new process is about not slipping so you think about the catchy name you're going to use and in the middle of the night it comes to you – "Stop A Peeling Floors." Your team isn't so sure. But you think it's pretty clever and since you do have a special banana-infused dessert you're going with it.
Please allow me to convince you that clever names don't belong on operational materials or as names of systems. 
A Refresher on Your Operations Manual Goals
The primary goal of your operational materials is to provide your franchisees with instructions for how to successfully and profitably run their business using your system. The end goal of selling your system is to earn you franchise fees and royalties. You do the hard work of creating systems, methods, procedures, branding, guides, recipes, job costing, labor modeling, vendor pricing, marketing plans, menu items, recipes builds, open-to-buy formulas, equipment specifications, etc. And people buy all of this from you because they either love your brand enough to make it their own, or they appreciate having someone else do the work of creating the whole thing to begin with.
In order to sell your franchise, you have to document the entire thing and that is where an operations manual becomes a critical part of the equation. Creating a world-class and operationally useful operations manual takes money. And time. And that franchisee on the other end of this equation? They may or may not be willing to have you change things around on them frequently. Remember, they are buying a system that is theoretically well rehearsed, refined, and ready to deploy out of the box.
Of course, you're going to make edits and release new programs. But if you focus on creating an evergreen framework and ensure the core of your content doesn't change too frequently, you'll be way ahead of your competition.
Evergreen Your Framework
The Table of Contents (TOC) is the key framework for your operations manual as well as an important piece of your Franchise Disclosure Document (FDD). It's one of the first things a prospective franchisee has to judge you on. The TOC forms the backbone and framework of your entire system, and because it's central to the FDD, changing it can create tons of confusion for your franchisees and headaches for your lawyers.
The very best practice is to create an evergreen framework TOC for your FDD that will live and breathe for the next ten years. It's expensive and time consuming to re-file an FDD.  At least 13 states require an explicit TOC with page numbers. You do not want to be forced to re-file as your materials change. Because the requirements of the FDD require a TOC if you keep your main categories consistently named you won't have to change it if your programs change.
Steps to an Evergreen Framework
Identify your core domains. Domains are large content areas that can be grouped together much like departments are grouped together. Domains typically match your corporate structure. Even if you are an emerging brand and have three hard-working people who do it all, eventually you will have departmental domains. The domains will drive your table of contents and the ultimate categories you create. For example: Finance and Accounting, Marketing, Training, Equipment, Assessment and Compliance, Recipe Guide, Food Safety
Create categories. These fall under domains and act as another level of subject refinement. Categories essentially function as the list of topics within each domain.
Place all of your content. Check the framework to ensure every piece of your operations are covered and that there is a home for all systems, procedures, processes, and core knowledge.
Example: Domain – Marketing, categories are Trade Area, National Marketing Fund, Brand Standards
Example: Domain – Food Safety, categories are HAACP Standards, Food Storage Standards, Waste Tracking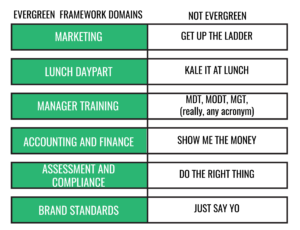 Note: As a franchise brand matures, it's very likely some of your domains will end up as stand-alone playbooks or guides. For example, you might eventually develop an entire catering playbook. In this case, as your content begins to resemble more of a library, be sure you are still using an evergreen framework for any domain-specific materials.
With a solid TOC built on the evergreen framework you can add people and make use of their knowledge without falling into the trap of the Clever Name.
Stay Out of the Clever Name Trap
It's not just your TOC that needs to be in an evergreen framework – it's also the names of your programs.
Remember our example of the hot vegan burrito bar? While "Kale it at Lunch" is certainly clever (if I don't say so myself) it's not evergreen. And the name doesn't really convey what kind of program it is. So how to incorporate it in an evergreen framework?
One of the main domains in your framework/TOC is Marketing. This is a marketing program that is specifically aimed at lunch. With Marketing as the domain, you should have a sub-section below it for Daypart Programs. The main topic in your framework/TOC is: Marketing. This program is part of marketing, but it's specifically aimed at lunch. If Marketing is your main section, you should have a sub-section underneath it for Daypart Programs. That's where this program belongs and it should be labeled "Lunch Traffic." On the actual program itself, you can use your clever and very on-brand title as a subtitle.
When the next great idea comes along and "Kale it at Lunch" becomes "Tastes Almost Like Chicken Dinner" next year, you won't have to change your entire Operations Manual and update your FDD.
The work you put toward correctly identifying domains and categories to build an evergreen framework now will save you many bottles of aspirin later.